FIRST MOUNT OLIVE BAPTIST CHURCH (FMOBC) IS LOCATED IN HISTORIC DOWNTOWN LEESBURG, VIRGINIA.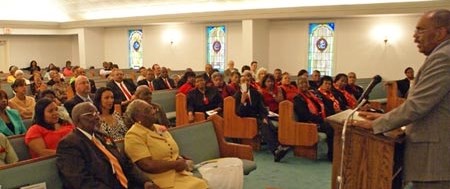 FMOBC benefits from the charm of a small town, as well as close proximity to the Washington, DC metropolitan area. Through its outreach ministries, the church aids in Christian Education, Discipleship, Evangelism, Stewardship, Missions, and Urban Outreach. The local community is served through outreach ministries in Northern Virginia, Washington, DC and Maryland.
Domestically, FMOBC serves through collaboration with other nonprofit organizations to assist families and individuals in need. Internationally, financial support is provided for a 500-student school in Kinshasa, Democratic Republic of the Congo. FMOBC is affiliated with the Northern Virginia Baptist Association, Southern Baptist Association and NorthStar Church Network.