MINISTER OF MUSIC: MIN. PATRICIA LESPOIR
LEAD PIANIST: BRO. ANGELO POLK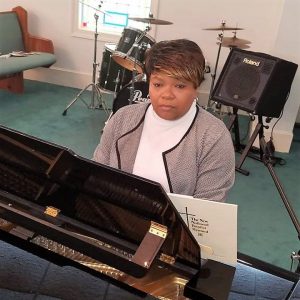 The Music and Fine Arts Ministry provides an environment for worship that invokes the presence of God through talents and a willingness to serve.
The Praise Team Ensemble leads God's people in praise and worship through welcoming in the Holy Spirit. When worshippers are drawn into God's presence, they speak and listen to Him. The Praise Team Ensemble sets the tone and shares the message through song.
The Music Ministry sings to the Glory of God and spreads the Gospel through music, drama and fine arts. As an integral part of the worship experience, the Music Ministry ushers in the presence of God by singing His praises.
Every Sunday at 9:45 a.m. – Praise Team Ensemble
1st Sundays – Men's Chorus 
2nd and 3rd Sunday– Mass Choir
4th Sunday – Praise Team
Praise Team – 
Men's Chorus – Saturday
Mass Choir – 2nd and 4th Wednesday