Reverend Harold S. Stinger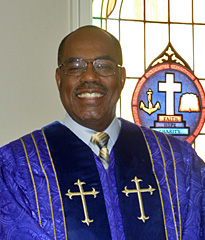 Reverend Harold S. Stinger is a living testimony of "unto whomsoever much is given, of him shall be much required." (Luke 12:48 KJV) As a humble servant of the Lord, who has been gifted with insightful wisdom, exceptional leadership abilities, and an undeniable fount of love, the Lord has used him mightily in His service– within the church, in the business world, and in the global community.
Reverend Stinger was called to the ministry in 1977. As a son of Providence Baptist Church in Leesburg, VA, he began his ministerial studies and completed his ordination under the esteemed tutelage of Rev. John E. Morris and Rev. N. Howard Staunton. After accepting his first pastorate in 1981 at Union Baptist Church of Vienna, VA , Pastor Stinger successfully led efforts to refurbish the church building using many of the church's own members as resources in the planning, building and completion of the project. The flock grew in spiritual unity as a result, likewise growing in membership, active love for one another, and reinvigorated ministry for the Lord.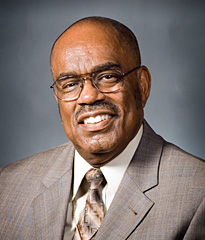 In December of 1989, Reverend Stinger was called back to Leesburg, VA to become Pastor of First Mt. Olive Baptist Church. He was installed in June 1990 and has faithfully served his flock. Under his leadership the church implemented on-going Christian Education programming, completed a building expansion to house extended ministry efforts and continues to increase its reach in service to the surrounding community as a source of light and love for those seeking the Lord.
Through his role as Pastor, Reverend Stinger's boundless compassion for others – both within the church and the community – has fostered the way for many to come to Christ.
But the Word says, "In all thy ways acknowledge Him" (Proverbs 3:6 KJV), and this text exemplifies Pastor Stinger's life. While growing his 'official' ministry through his pastoral appointments and service, Pastor has also lived his faith by starting his own business in the aerospace engineering field where he serves as founder and Chairman of SGT, Inc. The Lord saw fit to expand Reverend Stinger's territory. The company that began as two men in a small office currently employs nearly 2,000 and holds contracts across the country with NASA, NOAA, the Air Force and the Geological Survey. Many of Pastor Stinger's colleagues, co-workers and friends have seen their relationship with the Lord increase under the kingdom-focused leadership of their CEO.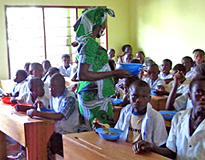 God has entrusted Pastor Stinger to serve Him through numerous additional honors and appointments related both to his work with SGT and to his role as a church leader. Pastor Stinger serves as the Director of the Aerospace Sector of the Maryland Governor's Workforce Investment Board and as Executive Vice President of the Maryland Space Business Round Table. He was also recently selected to be Science and Technology Chair of the Maryland Economic Development Commission and serves on the Trustee Board of Capitol College. Regarding religious leadership, Pastor Stinger serves as Chairman on the Board of Directors at Washington Bible College / Capitol Bible Seminary where he helps to foster the growth of new leaders in the field of ministry. In a project combining both his ministerial gifts and his business acumen, Pastor Stinger currently provides spiritual leadership and financial support for a 500-student school in Kinshasa, Democratic Republic of the Congo.
Our beloved Pastor attended the University of Oklahoma, Howard University, and Capital College in Kensington, Maryland where he majored in Electronics Engineering. He holds a Bachelor of Science degree in Engineering and an Honorary Doctorate from Capital College.
With his many responsibilities at the church, in the office and at home, one may wonder how Pastor Stinger manages to handle it all. No doubt, the answer lies in his favorite passage and personal testimony:
…they that wait upon the LORD shall renew their strength; they shall mount up with wings as eagles; they shall run, and not be weary; and they shall walk, and not faint. (Isaiah 40:31 KJV)
Pastor Stinger is married to First Lady Barbara Stinger. They are proud parents of Charles and Kim Stinger. The couple enjoys traveling domestically and internationally, entertaining, and fellowshipping with other churches.