Deaconess Thelma Polk, Chairwoman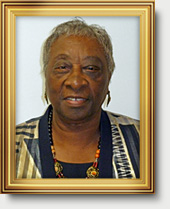 Deaconesses are assistants to the Pastor and Deacons, whose primary role is to enhance the spiritual matters of the church. Deaconess are also helpers of the church and disciples to bring others to the body of Christ. They prepare the elements for the Lord's Supper (Communion) and prepare candidates for Baptism, which are Holy Ordinances of the Christian church.
The mission is to foster peace, love and Christian unity among the membership by witness and deportment. Deaconesses assist the leadership by being attuned to the needs of the body of Christ.
The Deaconess prepared and served dinner for families in the Loudoun County Emergency Homeless Shelter, provided turkeys at Thanksgiving to families in need in our church and the community, prepared communion for the congregation, contributed toys and supplies to children through Samaritan's Purse International Relief, donated Christmas gifts for families in need at FMOBC through Toys for Tykes, and assisted with the Annual Deacons and Deaconess Day.
To strengthen Care Group support for the spiritual, emotional, and physical needs of members. They plan to establish a program to support/encourage young mothers of FMOBC and continue to serve families in the Loudoun County Transitional Housing Center and in the community. Last, they will partner with  other ministries of the church to provide support for the outreach mission efforts at FMOBC.
MINISTRIES AND ACTIVITIES
The Deacons and Deaconesses Day is held annually to recognize service of the joint ministries. This annual day is the 4th Sunday in June at 3:00 p.m.
DATE AND TIME OF REGULAR MEETING
The Deaconess Ministry meets on the Saturday before the 3rd Sunday of each month at 10:30 a.m.